Whenever you purchase a property for sale there are two valid options in the market, either ready to move or off-plan projects in the real estate market. However at the end of the day you as a buyer will choose the best units which suits you. Sometimes the best units are not the facilities or amenities in the project. Sometimes the best units are about having the slight edge on other homebuyers. 
By having a slight edge is to add ask yourself: What makes this unit special or what is the main selling point for this unit? You can think how I can have a slight edge over my competitors to have a better unit. So I can have better rents, better resale price to have profits off my investments, or do I have a slight edge on my payment plan as well. 
At FazWaz Real Estate Dubai we have looked at data collected during the month of May 2022, to summarize the real estate market in Dubai and what to predict can happen in the property market in the United Arab Emirates. 
May 2022: Dubai Real Estate Market Overview 
Total transaction or the total number of properties for sale in Dubai accumulating to 6,720 transactions. The number of transactions is calculated of both ready-to-move-in and off-plan properties for sale in Dubai. Compared to the total transaction of May 2022, saw an increase of 53.2% in May 2021. 
We breakdown the number of transactions from May 2022 vs April 2022, the total transactions decrease slightly by 3%. There is no point of concern with the uptrend in the property market. However, the 3% decrease is because of UAE amended residences visa law during the month of April.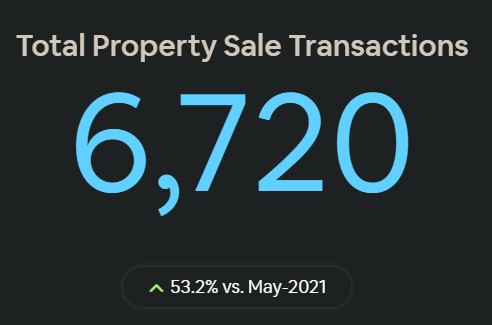 Should I Buy an Apartment, Villa, or Penthouse in the UAE?!
For one the region of Dubai is slightly small. If you want to compare the landmass of Dubai, it is very similar to Singapore. Never let how small the city-state is to fool you. Sometimes something small packs a real big punch. United Arab Emirates is the big punch. Especially in Dubai dubbed as "The Luxury Capital Of The World". So now what are the trends of property types in May. 
The city-state is known to have posh and lavish high-rise residential buildings. It is still true to the present day. May 2022 saw an increase of 61.6% of sale transactions in apartments. Homebuyers and real estate investors prefer to buy apartments in Dubai. A total of 4,725 sales transactions occur during the month of May 2022. According to statistics, to buy apartments in Dubai is at 70.13%. Compared to April 2022 sales transaction of apartments increased by 6%.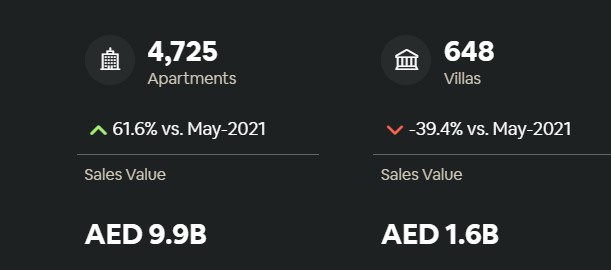 On the other hand, buying villas in Dubai saw a big uptick during the month of April 2022. One of the main reasons by FazWaz Real Estate UAE data was because of project completion. During the pandemic, the off-plan villa project was on hiatus.  Present day plenty of villa projects in Dubai completed. Homebuyers seeking to buy villas in Dubai should occur in two main areas. In the residential area of Dubai and on the waterfront. May 2022 saw a total transaction of villas at 648. An decrease of 39.4% from May of 2021. 
Location, Location, and Most Important is Location
Where should I live? What kind of community matches my lifestyle, my characteristics, and what I like? These are hard questions to answer even if you have known yourself for all your life. 
In the present day we live in a world of data-driven information. Stated on FazWaz Dubai, the top performing areas in May 2022 are at: Business Bay, Downtown Dubai, Dubai Marina, Damac Lagoons, and Jumeirah Village Circle. 
Compare the top 5 locations to April 2022, the list are: similar except Jumeirah Village Circle was in the top 3. The sole reasons for Jumeirah Village Circle being a top performing area is because of its location, its community styles, and because of its way to promote one-stop landmarks and school areas in Dubai. 
and Downtown Dubai are the top two performing areas of all time in Dubai because they are the Central Business District of Dubai. The areas hold around 80% of multi-corporation companies from HSBC Bank, Citibank Group, and many more. Business Bay and Downtown Dubai are not for work, but for leisure as well. Downtown Dubai houses the tallest building in the world with the best performing apartment for sale in Downtown Dubai named: IL Primo.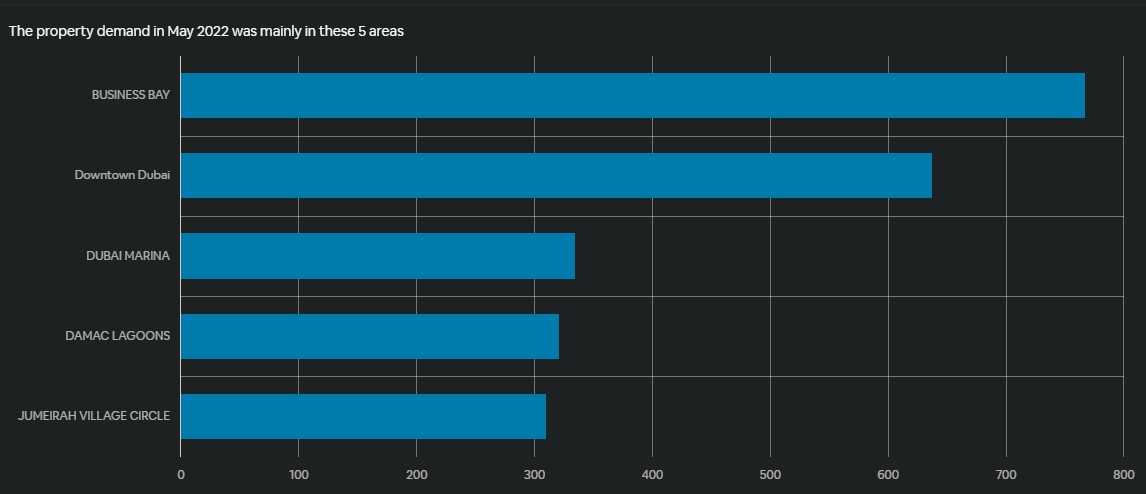 Top Performing Projects in Dubai
As a buyer you have done your research, collecting data, and listened to your gut feeling already. You know your location now, you know what type of property to live at in Dubai. The next question is what project you want to live in. According to trend following and best performing projects. According to data collected by FazWaz and users behavior, the top performing projects to buy apartments in Dubai are: IL Primo, W Residences Dubai at Palm Jumeirah, and The Peninsula by Select Group. 
On the other hand, for villas, off plan projects having higher value in the future. Property developers in Dubai, give flexible payment plans when it comes to villas in UAE. As stated above, Damac Lagoons is a new community of luxury villas for sale in Dubai. From off-plan projects such as: Malta, Venice, and Santorini, and much more. Homebuyers feel they are traveling the world.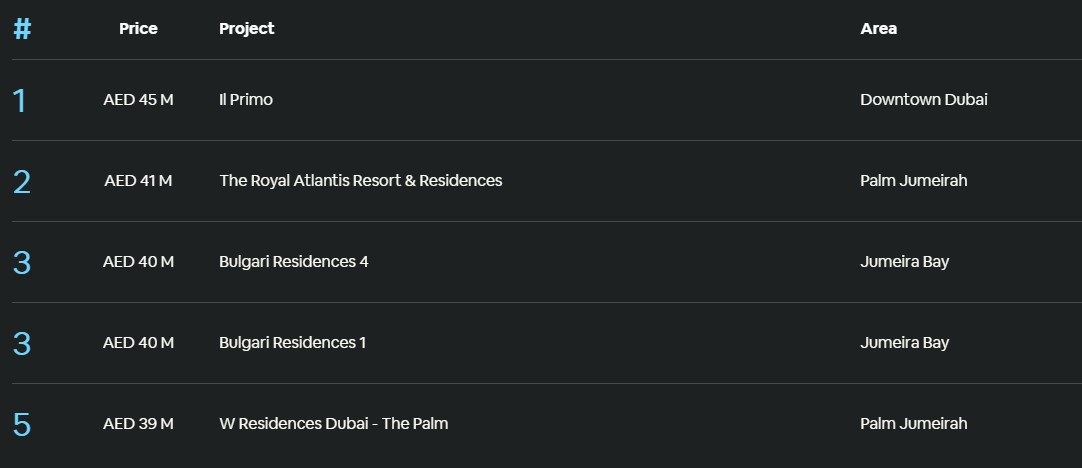 What Is Next for Dubai Real Market? 
The occurrence of COVID-19 has caused forecasters to re-think again and again for what uncontrollable destruction can come again. Well for one, it seems a new virus is gaining momentum such as: Monkeypox in UAE. 
However, let's focus on important data, and financial returns we can control. For instance, the Dubai real estate market since 2008 had a big boom with the value of property rising by 68%. During the year of April 2016, property prices slowly decreased in value, because of oversupply. However the pandemic can be seen as a blessing in disguise for the region's real estate market.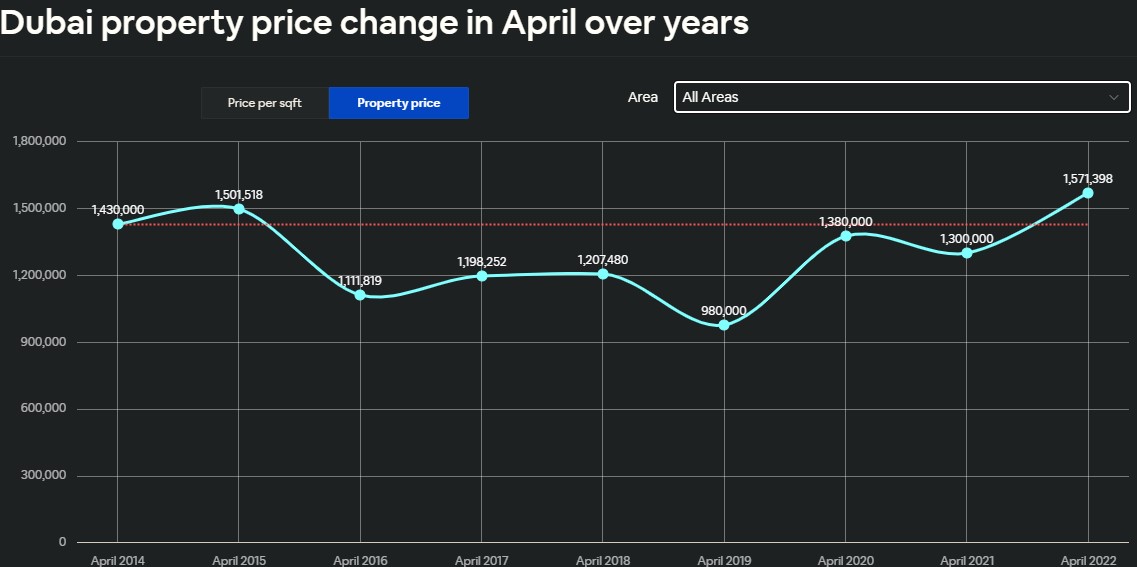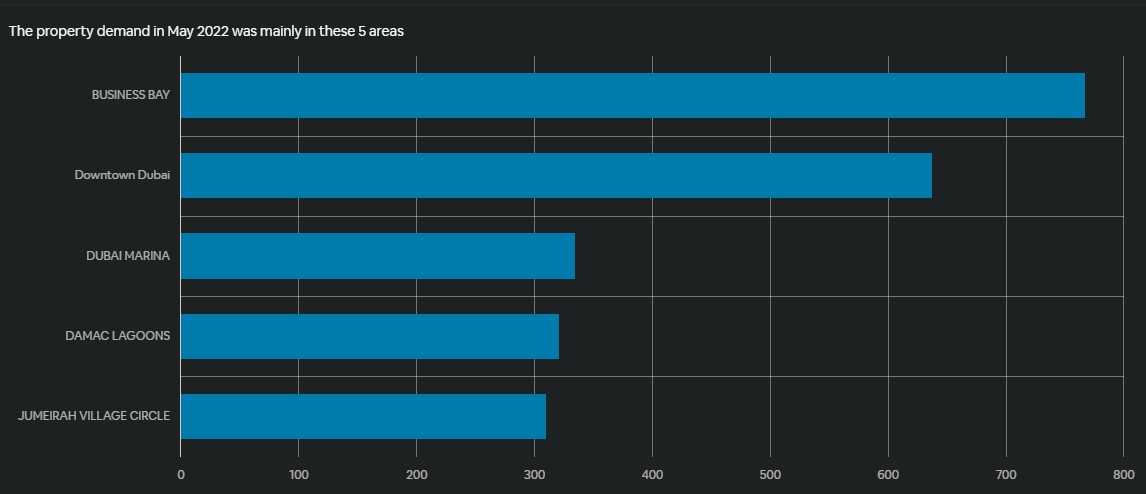 Property Value since the end of year 2021, have seen an upward trend up to 24%. The upward trajectory is still climbing. UAE new and amended residence visa protecting renters as well as real estate investors to hold on the property for better resale value. 
We should expect an uptick in villas for sale in Dubai. Homebuyers behavior is changing towards a home with outdoor space, and of course privacy. From FazWaz Dubai data collection we have noticed inquiries on off-plan villa projects which are reasonably priced with post-completion payment plans. The location of off-plan inquiries are coming at Al Barari community known among locals as "The Green Parks of Dubai". 
We should expect lots more properties for sale in Dubai to be themed around nature and good vibes going into the future.