According to CBRE reports, in May 2022, the Dubai property market reach a 13-year high following sales transactions for properties for sale in Dubai. 
As stated by experts why the transactions were so high is because of foreign investors, high net worth individuals, and entrepreneurs strategically planning to open businesses in UAE.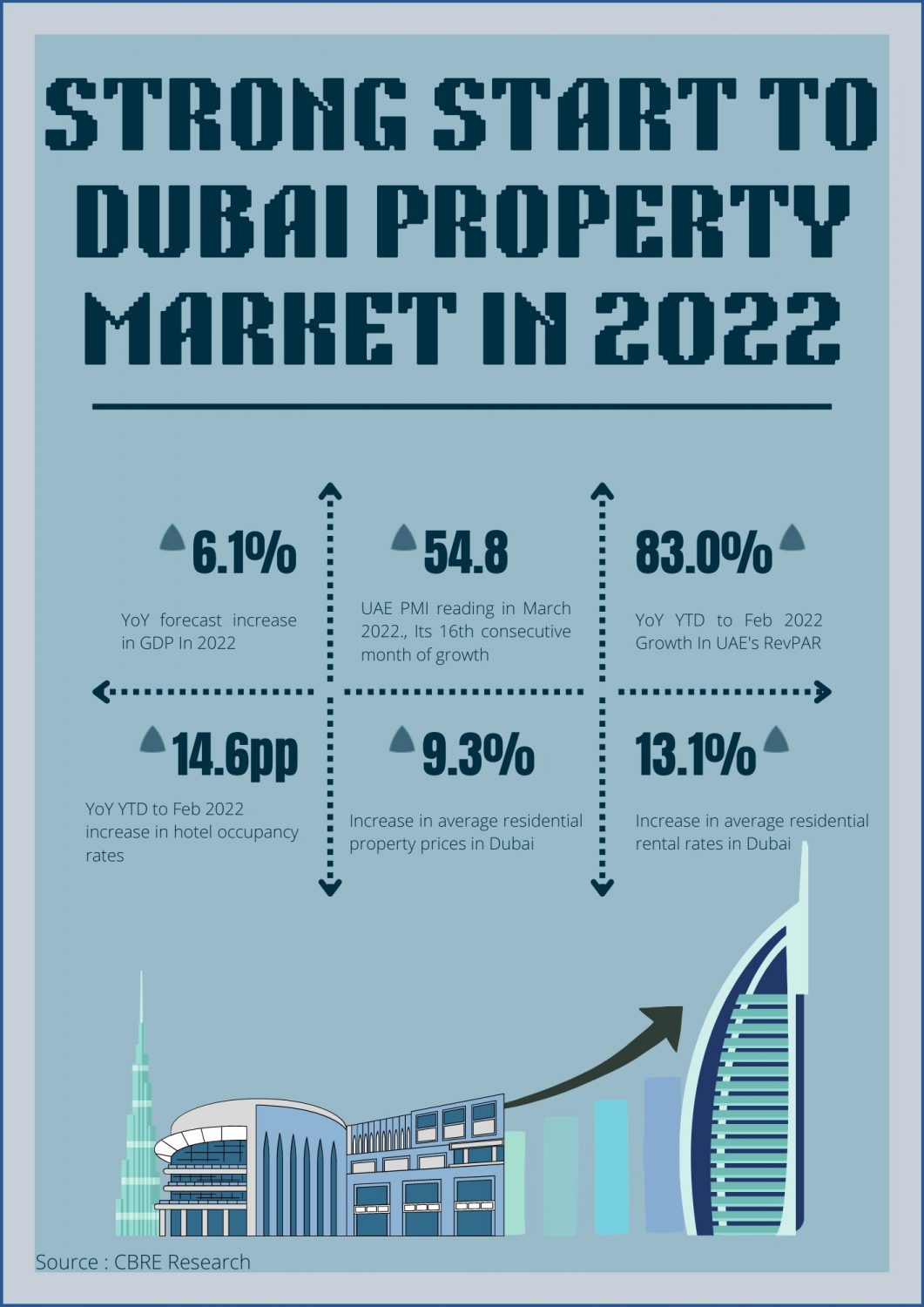 The Dubai property market has been booming for the past few years. The latest statistics show that the property transaction in Dubai have reached an all-time high in 13 years.
The number of housing transactions equals 5,542 sales in May 2022 in Dubai. This is an increase for 33 percent, according to a snapshot of CBRE reports. Dubai has been on a steady price rise since the beginning of 2022. The increasing demand for homes is being fuelled by growing foreign demand and ease of travel restrictions in the UAE. 
How's the growth? 
According to CBRE snapshot of 2022, total transaction volume in the year to day May reached 30,903, the highest total recorded since 2009. 
Dubai is a city that is constantly growing and changing. As the city expands, so do the prices of apartments and villas in Dubai.
The average real estate rates in Dubai increased by 10.9% in the year to May 2022, according to a report by CBRE.
The report also indicated that the average apartment and villas prices rose by 9.6% and 19.8%, respectively, during the period of till date of the year May 2022.
The average apartment price in Dubai stood at Dh1,102 per square foot, and the average villa price stood at Dh1307 per square foot. 
On the other hand, average rents for apartments and villas in Dubai are equal to 83K and 250K AED, respectively. 
Dubai's residential market is expected to remain strong in 2022 as demand for apartments remains high.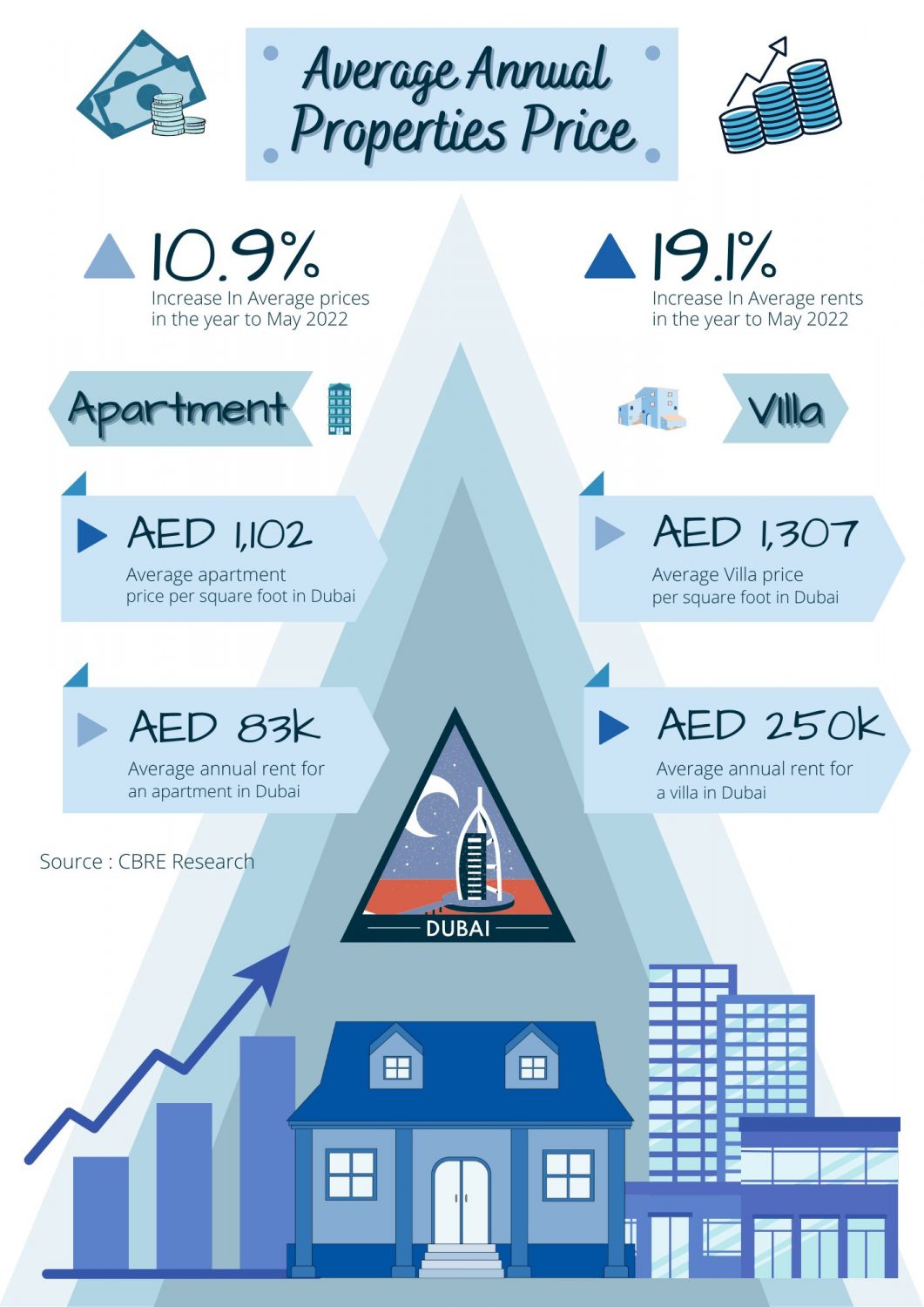 Off-Plan or Resale Market? 
Off-plan sales are on the rise in Dubai. In May, 55.4% of all residential sales were off-plan and this trend is expected to continue for the next three quarters.
The resale market in Dubai has also seen an upward trend, with 18% of all homes sold in May being resales, up from 12% last year.
In the next three quarters, Dubai real estate market is seeing an up tick in off-plan projects scheduled to be complete, with more supply coming really soon. A delays cause by the pandemic.
Most Preferred Destinations? 
According to CBRE snapshot, the top three popular choices to live in Dubai are Downtown Dubai, Palm Jumeirah, and Al Barari. 
When it comes to apartments, the two popular choices are Downtown Dubai and Palm Jumeirah. For villas in Dubai, the two prefer choices are Palm Jumeirah and Al Barari. 
The highest transactions for apartments are in Downtown Dubai with an average apartment price per square foot is 2,045 AED. For villas for sales, the highest average per square foot is in Palm Jumeriah with a price at 3,207 AED, the median price. 
As highlighted in the previous news, why does an increase in prices affects first-time buyers? With an increase in demand, first-time buyers will be pushed out and restored to rents. 
As stated on CBRE, the highest average annual apartments for rent in Palm Jumeirah amounts to 214K AED annually. On the other hand, for villas for rent in Al Barari, the average annual rents amount to 874K AED.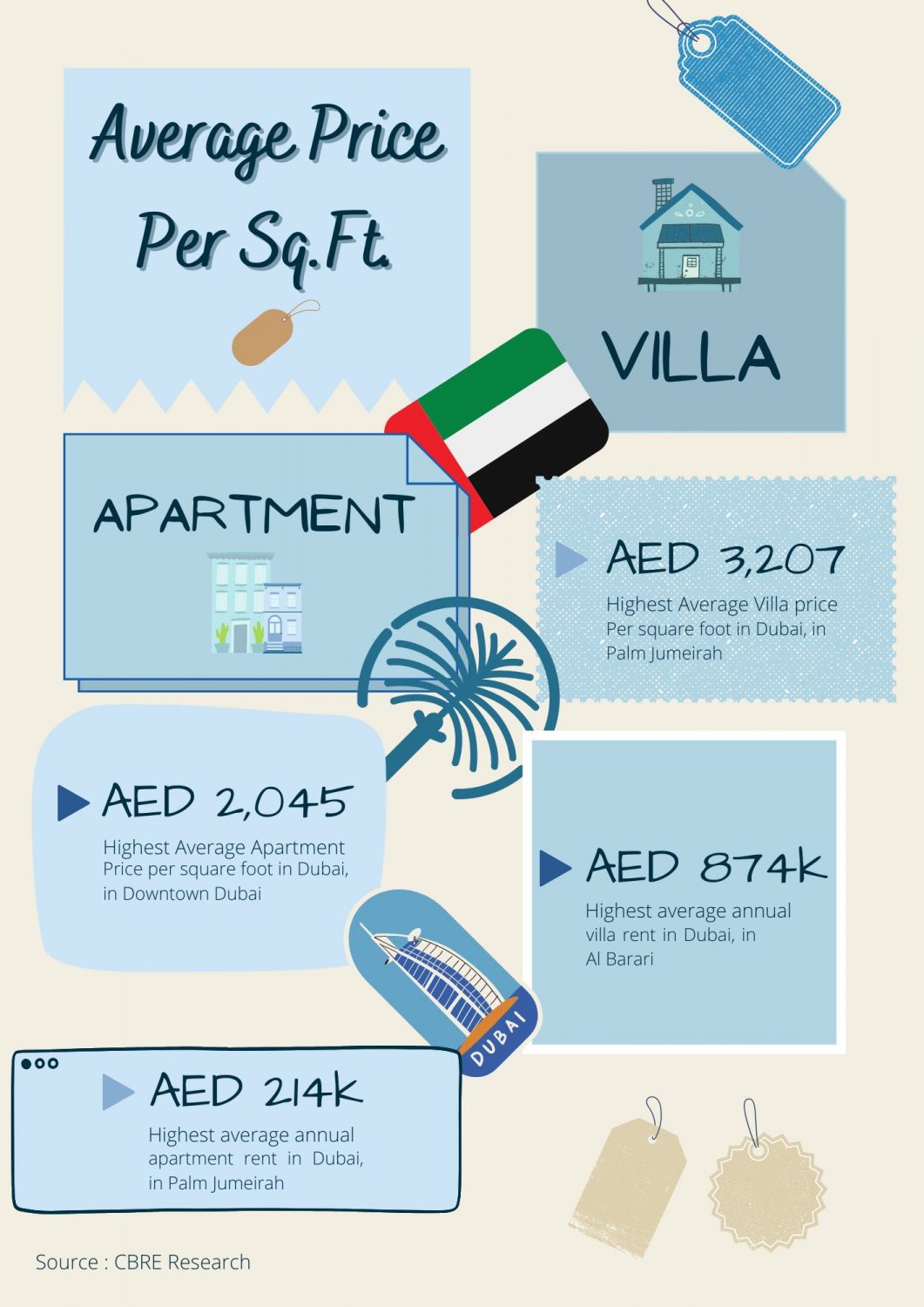 What's Next? 
As stated above, the price increase in Dubai's real estate market is because Dubai is turning to be the real estate capital of the world by being a bridge for the financial hub between the west and the east.
During the dip of the market worldwide, it's good to turn into a state of an upward trend and invest during the dip. Properties of the sale in Dubai are affordable compared to the highest price reached in 2014. The top three other choices to live in Dubai are Jumeirah, Business Bay, and Mohammed Bin Rashid City. The price at Business Bay per square foot is 1,522 AED with an MoM change of 1.3%. 
Business Bay is a vibrant and popular community in Dubai and nearby Downtown Dubai but has less MoM change in sales prices. Good stability in the steady upward trend real estate market. According to experts, in the years 2023 and 2024, there will be stability in market prices, which can cause less volatility. Dubai's real estate market is a buy-and-wait opportunity. 
FazWaz Real Estate UAE has compiled a list of top properties of the sale in Business Bay to capture the upward trend before the lift off.