As the second half of the year is coming towards us in 2022. At Fazwaz Real Estate UAE, we have analysis data for price performance in the first half of 2022. 
Dubai as a whole is the biggest area in the United Arab Emirates and has one of the most cosmopolitan emirates out of all the 7 emirates in the UAE. 
Prime locations in Dubai with popularity from locals and expats alike by sales transaction, renters, and population in the communities itself are: Downtown Dubai, Jumeirah, Business Bay, Mohammed Bin Rashid City (MBR City), Dubai Marina, and Damac Hills by Akoya. 
The first half of 2022 saw record high sales transactions in 13 years of Dubai residential market. Especially with luxury properties for sale in Palm Jumeirah had the highest sales transaction totaling 35% in the first two quarters of 2022. 
Top 3 Prime Locations in Dubai
The top 3 prime locations for popularity and price trends in apartments for sale are: Business Bay, Downtown Dubai, and Jumeirah. As property prices in UAE have recovered quickly compared to its peers, the market condition is still underperforming. With prime locations properties prices have not reached its high as it did in 2014. 
In Downtown Dubai apartments prices have a month-on-month per square foot increase for 0.5%. According to a CBRE report, the average sale trend of apartments in Downtown is at 2,045 AED. On the other hand, compared to Business Bay, a business and city center for Dubai similar to Downtown. The average sale trend per square foot is 1,522 AED. Business Bay apartments for sale have a month-on-month price increase of 1.3%.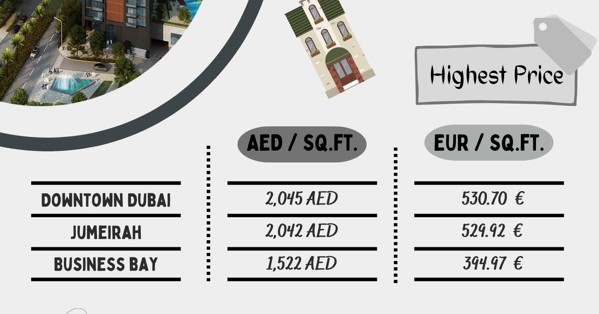 On the other hand, Jumeirah is a big community along the coast of the Arabian Sea. Jumeirah Dubai is known for its beautiful beaches, family-friendly outdoor retail center, supermarkets, and much more. From Jumeirah its residents have the perfect view of one of the best five-star hotels, Burj Al Arab. Apartments for sale in Jumeirah Dubai are popular among locals and expats alike because of its all-in-one community amenities. Jumeirah properties have one of the highest month-on-month increases per square foot for 3.6%. The average sale trend for properties for sale in Jumeirah is 2,042 AED. 
Top 3 Underperforming Locations in Dubai
As listed above, the top 3 underperforming locations and locations to look forward to in the second half of 2022 are: Dubai Marina, Damac Hills, and MBR City. These three prime locations are set to launch plenty of off-plan properties for sale, set to attract buyers and investors at the end of 2022. 
Dubai Marina according to CBRE report price month-on-month change is -0.3%. Dubai Marina is the only prime location with a negative change as supply has not caught up with demand as for yet. Average sale price for apartments in Dubai Marina is at 1,362 AED.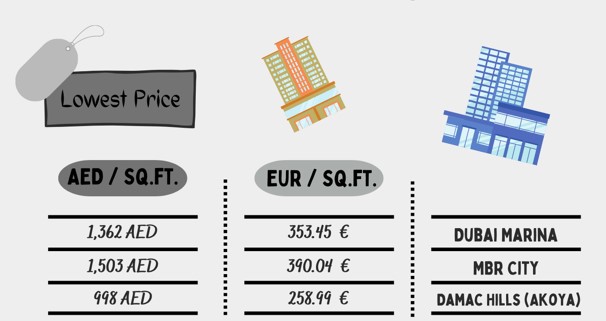 On the other hand, MBR City and Damac Hills by Akoya have a positive month-on-month change. MBR City price change is at 2.3% and the latter at 2.1% respectively. Damac Hills is a well-known prime location in residential Dubai. Known for its chill and tranquil environment surrounded by lush greenery. The best of Damac Hills is its direct access to golf courses dotted all along the location. Damac Hills average price per square foot stands at 998 AED and MBR City stands at 1,503 AED. Damac Hills apartments price is underperforming. 
Fazwaz Real Estate UAE Top 3 Recommendations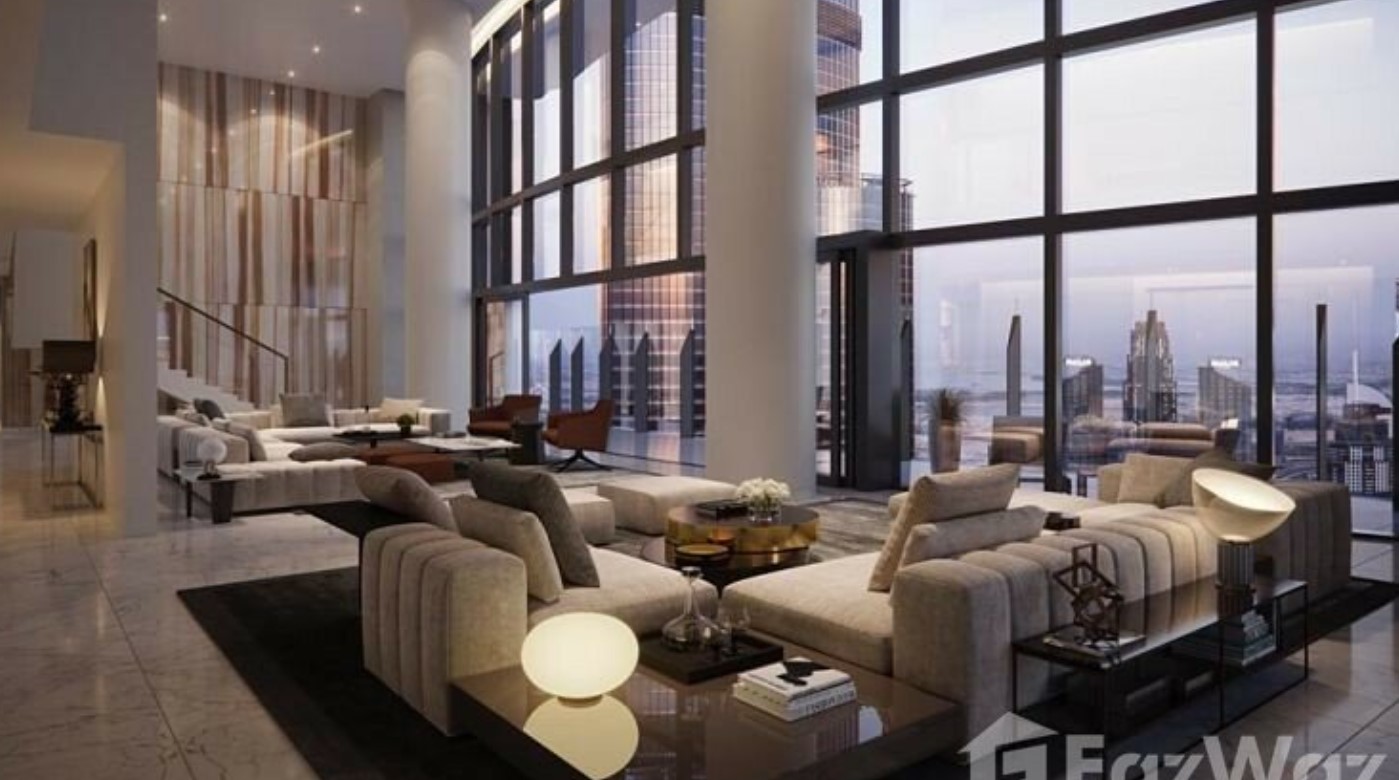 For homebuyers and investors preference for liking upward trend trajectory, then Downtown Dubai location is the best community to look at. One for the best apartment for sale in the location is IL Primo apartments. Set to complete by the end of 2022, with a view of the river, and just opposite for Burj Khalifa. Who would not prefer to live with the view of the tallest building in the world. Additionally nearby to the largest shopping mall in UAE: The Dubai Mall. 
Secondly for underperforming property market locations, we recommend MBR City and Dubai Marina. MBR City is a new development located along Ras Al Khor Wildlife Sanctuary. As well with the only inland crystal lagoon in the whole UAE. We recommend an off-plan project for Crest Grande apartments with a flexible payment plan. A new and modern apartment design with amazing facilities, and the best is that the price is very attractive.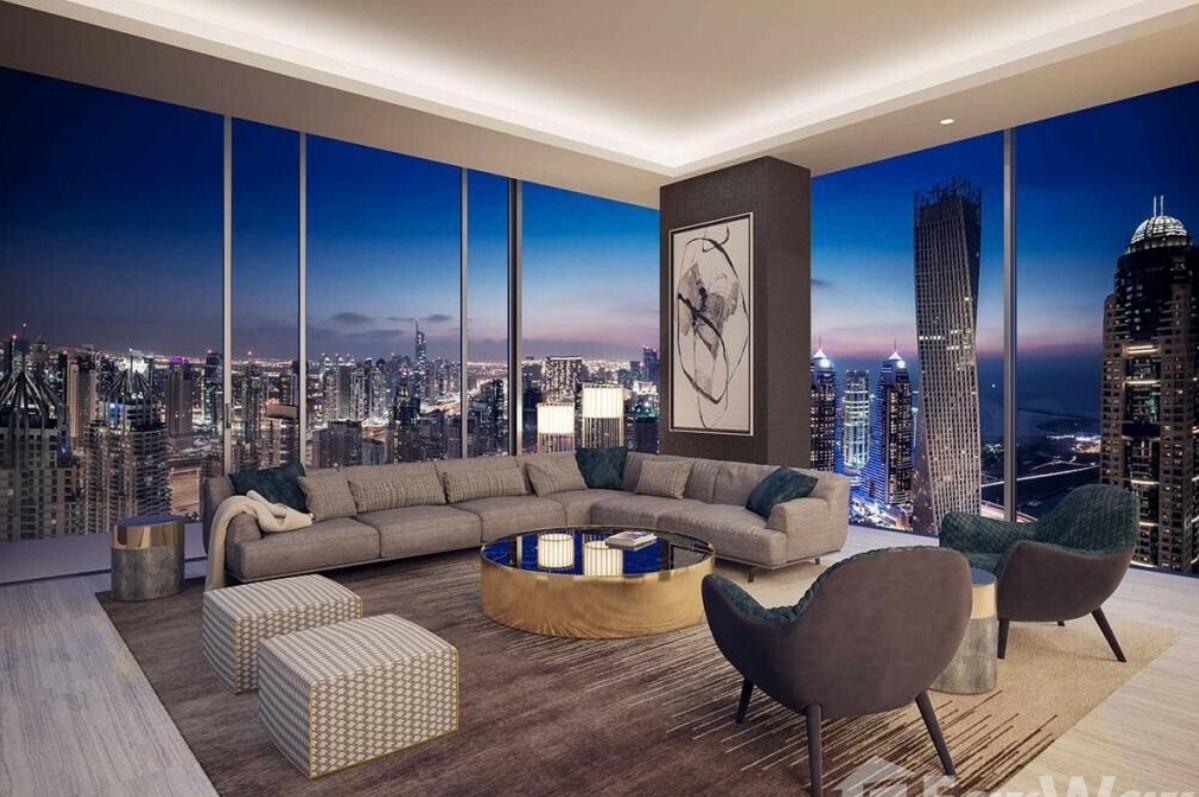 Lastly, Dubai Marina is one of the most vibrant and buzzing prime locations in Dubai. Jumeirah Living Marina Gate apartment is one of the most attractive apartment projects in Dubai Marina. Surrounded by waterfront restaurants, amazing Saturday Brunch in Dubai, and of course the marina itself. One of the best sunset views in Dubai and nearby to Palm Jumeirah. 
Continue more on Fazwaz Real Estate UAE to check amazing properties for sale prices in Dubai.