Dubai, United Arab Emirates is known for its various malls. From luxury shopping malls in Dubai to outdoor retail stores for families to enjoy casual experiences. Dubai takes its shopping malls and experience very seriously. No where in the world you would find shopping malls being the epicenter of leisure, entertainment, clothing, and even educational, then in Dubai. 
Today our guide is on must-visit shopping malls in Dubai. 
Let's start with the largest mall in the world and the largest malls in Dubai: The Dubai Mall. The Dubai Mall is literally a one-stop entertainment center. From the first and only Dubai Ice Rink, to reel cinemas, VR Park, Underwater Zoo, and of course Fashion Avenue. You would find all kinds of luxury brands from clothing, handbags, accessories, and more. 
Additionally, the Dubai Mall is nearby Burj Khalifa and Dubai Fountain. Located in Downtown Dubai, you would experience the ultimate city lifestyle in Dubai. Find a place property to rent in Downtown Dubai is just a click away at FazWaz UAE.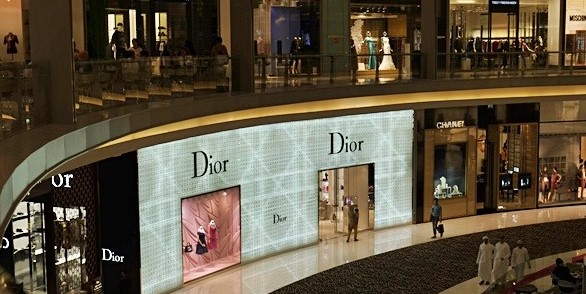 2. Mall of the Emirates
A few selected malls in Dubai are just not for entertainment or for shopping. Such as Mall of the Emirates, as locals called it a resort shopping mall in Dubai. If you get tired from shopping, Mall of the Emirates has plenty of activities covered for you. From indoor skiing or snowboarding to Magic Planet, and even direct access to golf courses in Dubai. 
However, Mall of the Emirates is a shopping mall for fashion designers to display their latest product at Fashion Dome and Luxury Wing. You have easy access to Mall of the Emirates by Metro Station. Located at Al Barsha where locals called it green communities. 
Check out a great property to rent in Al Barsha at FazWaz UAE.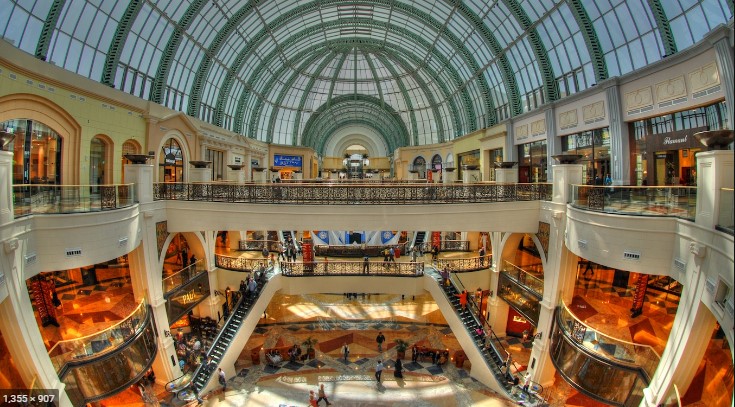 As the name suggests, Dubai Marina Mall is located in Dubai Marina, Dubai. One of the most buzzing and vibrant communities in Dubai. Dubai Marina provides an amazing walk path, casual waterfront cafes, restaurants, and trendy Saturday Brunches. 
Inside Dubai Marina Mall you would have amazing, high-street brands such as Zara, Mango, Forever 21. Visitors love the casual waterfront eateries in Dubai Marina Mall with a beautiful view of yachts and the amazing Arabian Gulf. 
For you wishing to rent nearby Dubai Marina Mall and Palm Jumeirah, it's just a few clicks away at FazWaz UAE.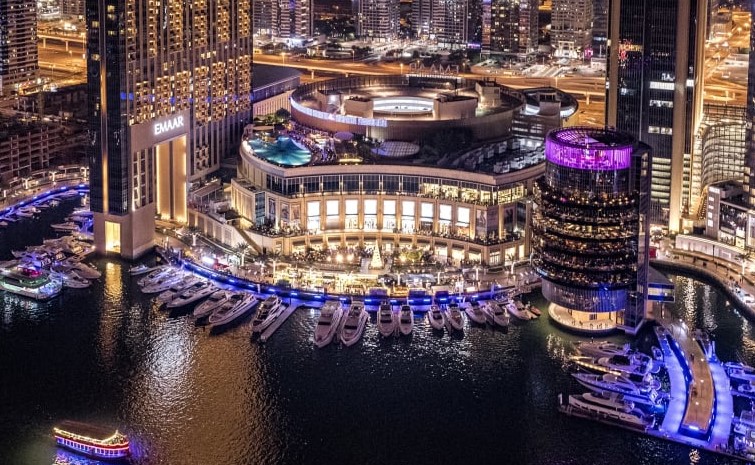 4. IBN Battuta Mall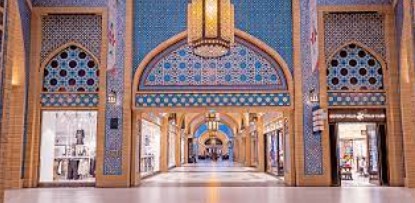 The Ibn Battuta Mall, which is regarded as the biggest theme mall in the world, was designed in honor of the Moroccan explorer Ibn Battuta. With six unique retail courts ready to be found and explored, shopping here becomes an adventure. Debenhams, Geant, Marks & Spencer, Sharaf DG, and Decathlon are examples of anchor stores. The main highlight of IBN Battuta Mall  is the bowling experiences which other malls in Dubai do not provide you. 
IBN Battuta Mall located nearby The Gardens community in Dubai has an easy commute. You can visit IBN Battuta Mall via Sheikh Zayed Road or the closest Metro Station at The Gardens. The Gardens is an amazing community, with plenty of amazing properties to rent with views of lush green parks, sports facilities, and Dubai landscapes. 
5. Dubai Festival City 
The name for the shopping mall might have given the clue away that this mall in Dubai is going to be festive. When you think of the word festive, the pictures that pop into your mind are colors, lights shows, celebrations, that is everything correct. Dubai Festival City Mall is famous for its light shows. Even more famous than the Dubai Fountain light show. However, Dubai Festival City offers a variety of luxury brands, high-street fashion brands, and a few entertainment leisure centers. Additionally, Dubai Festival City Mall offers the biggest IKEA store in the United Arab Emirates. 
Dubai Festival City Mall is located nearby Dubai Creek Harbor which is a new development by Emaar. Dubai Creek Harbor provides amazing property to rent in Dubai. With amazing views of the harbor, close proximity to Dubai Creek Golf & Yacht Club, and just a 3 minutes drive to Dubai International Airport. Uniquely, to commute around Dubai Creek Harbor you can take a water taxi straight to Dubai Marina Mall and have amazing instagramable pictures for Burj Khalifa. 
Today you can go to any mall in Dubai that suits your preferences, shopping needs, and of course good places to eat in Dubai too. With FazWaz UAE top recommendations of shopping experiences in Dubai with best properties to rent in each of their respectable locations.