We are soon approaching the 3rd quarter of 2022. At Fazwaz we have compiled an overview analysis of villas for sale in Dubai prime locations. The analysis is on month-on-month price changes, which prime locations homebuyers or real estate investors search to buy villas in Dubai, and which prime locations are underperforming in the real estate market. 
What are prime locations? 
Prime locations for Dubai are where businesses, commercial establishments, and most of necessary amenities such as: schools, supermarkets, parks, and hospitals are located with its close proximity to houses for sales in Dubai. On the other hand prime locations in Dubai are where expats and locals alike want to stay or invest in the region. 
From Fazwaz Real Estate UAE past data, prime locations are where homebuyers search area guides the most with clicks and impressions. 
For this particular blog for villa for sale price analysis the prime locations for upward price trajectory are: Palm Jumeirah, Dubai Hills Estate, and Jumeirah Dubai. 
On the other hand, underperforming properties market of prime locations in the region are: Al Barari, Arabian Ranches, and Emirates Hills. These three underperforming prime locations seek to have better performance in the second half of 2022 and onwards. For apartment price changes analysis, click here.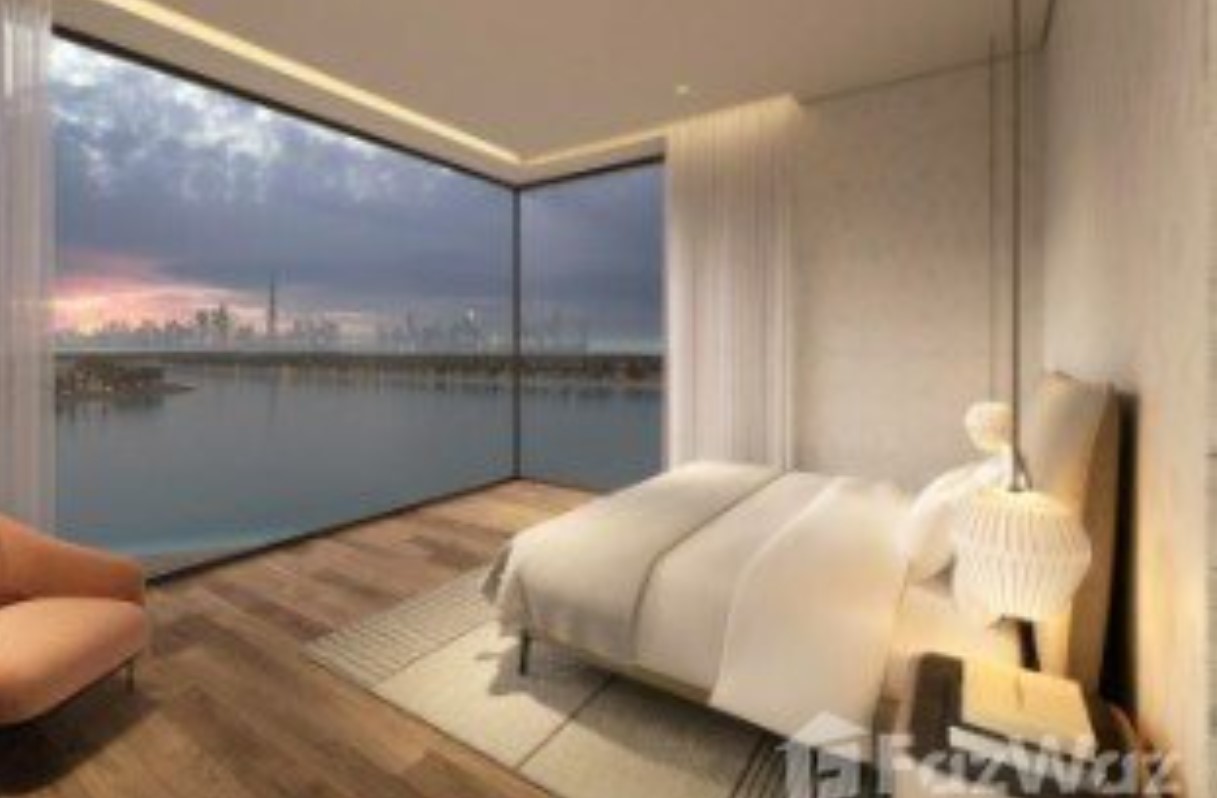 Top Three Upward Trend Locations 
One of the most desirable and sought after locations is definitely Palm Jumeirah. The largest man-made island in the world houses plenty of luxury waterfront villas for sale and high-rise residential towers at the entrance of the island. Palm Jumeirah had the most sales transactions for luxury properties in UAE totaling 35% for the whole sales transaction in the beginning of 2022. Palm Jumeirah offers amazing and beautiful luxury waterfront villas for sale overlooking the Arabian Sea coastline in the mornings and evenings. 
Presently Palm Jumeirah houses price per square foot stands at 3,207 AED. Month on month price change is at 4.2%. One of the highest increases in the Dubai property market. As the region presented great and quick recovery from the pandemic and the success of EXPO 2020. Foreign investors and high net worth individuals are quickly moving their investments and business to Dubai and especially purchasing villas in Palm Jumeirah.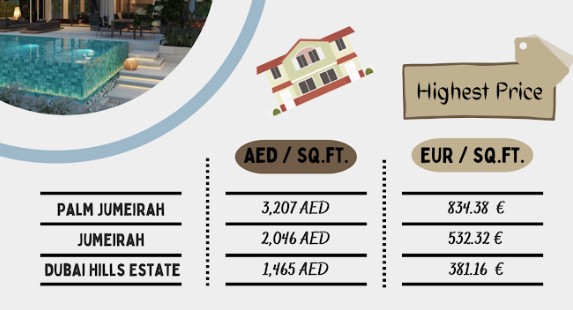 However the regional property market offers a wide range of prices. Villas in Dubai are mainly dotted around residential areas of the region and nearby golf courses in Dubai. Dubai Hills Estate and Jumeirah Dubai are two communities which offer home buyers direct golf access, a tranquil environment and plenty of lush green parks. Jumeirah Dubai is a sought-after community for Dubai especially with families. Jumeirah is one of the biggest communities in Dubai, from schools, to hospitals, to beautiful beaches such as the famous Kite Beach. Additionally, residents have an amazing view of Burj Al Arab, the most famous five-star hotel in the UAE. Jumeirah Dubai price per square foot is at 2,046 AED, with Dubai Hills Estate stands at 1,465 AED.
Month-on-month change of Jumeirah Dubai is at 3.6% and the latter at 2.7% respectively. Dubai Hills Estate is perfect for real estate investors seeking high rental yields as it provides direct golf access to Dubai Hills- Golfville by Emaar. 
Top 3 Prime Locations To Keep An Eye For In 2022 
Although some homebuyers and investors prefer to follow trends and upward trajectory. A few perform to seek for future investments. Fazwaz Real Estate UAE has compiled prime locations with an upward trend by the end of 2022 and there are: Arabian Ranches, Al Barari, and Emirates Hills.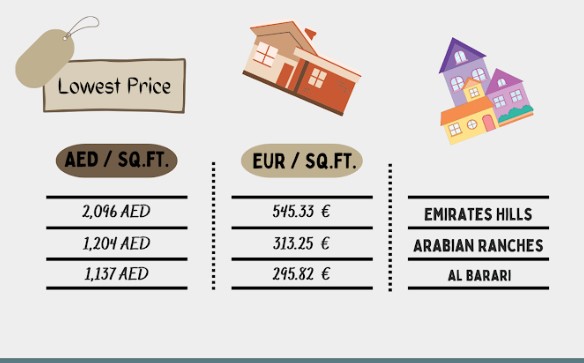 We will start with Arabian Ranches. One of the oldest and popular communities among locals in Dubai and since 2014 property boom with expats as well. Arabian Ranches is "The Residential Community" of UAE. The community offers great international schools, retail spaces, and the main attractions direct golf access. Presently, Arabian Ranches villas for sale price per square foot stands at 1,204 AED. As an underperforming prime location for new launches being halted since the pandemic and the completion date move back to the end of 2023. 
On the other hand, two of the upcoming property locations for villas are: Al Barari and Emirates Hills. Emirates Hills price per square foot stands at 2,096 AED with an MoM change for 1/7% change. Al Barari or as the locals name it the greenland community for Dubai with lush greenery surrounding the whole community and its famous The Farmhouse Restaurant. Al Barari villas for sale price per square foot stands at 1,137 AED with an MoM change for 2.3%.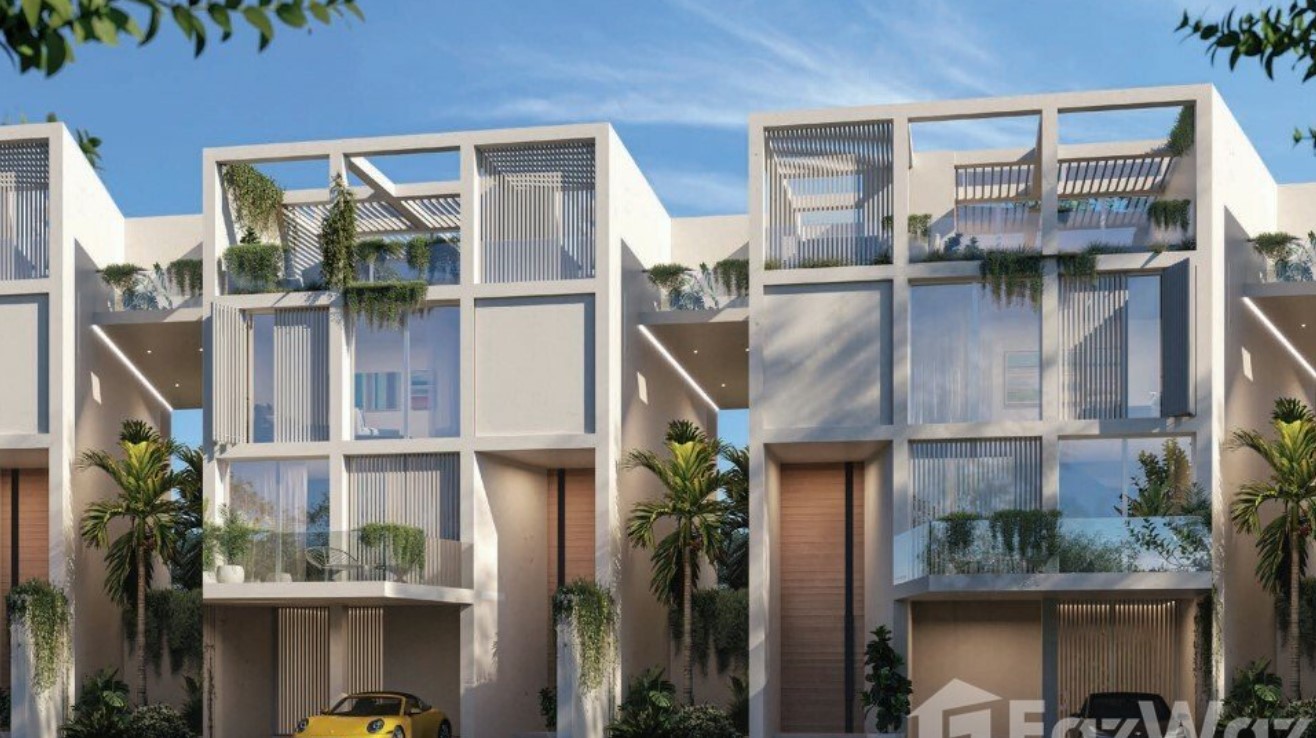 Top 3 Recommendations for Villas 
At Fazwaz our top 3 recommendations for villas for sale is Palm Jumeirah. As the new Six Sense waterfront living villa for sale offers great economical price and amazing views of the whole sea. 
Secondly is at Al Barari, where it is one of the most sought after locations by expats. Since the pandemic Al Barari community has grown in stature. With wide spaces, spacious villas, nearby green parks, lakes, yoga area, and basically having a great active and healthy lifestyle. Al Barari Ixora Villas offer great ROI for investors. For homebuyers Ixora Villas offer great family-friendly amenities and spaces.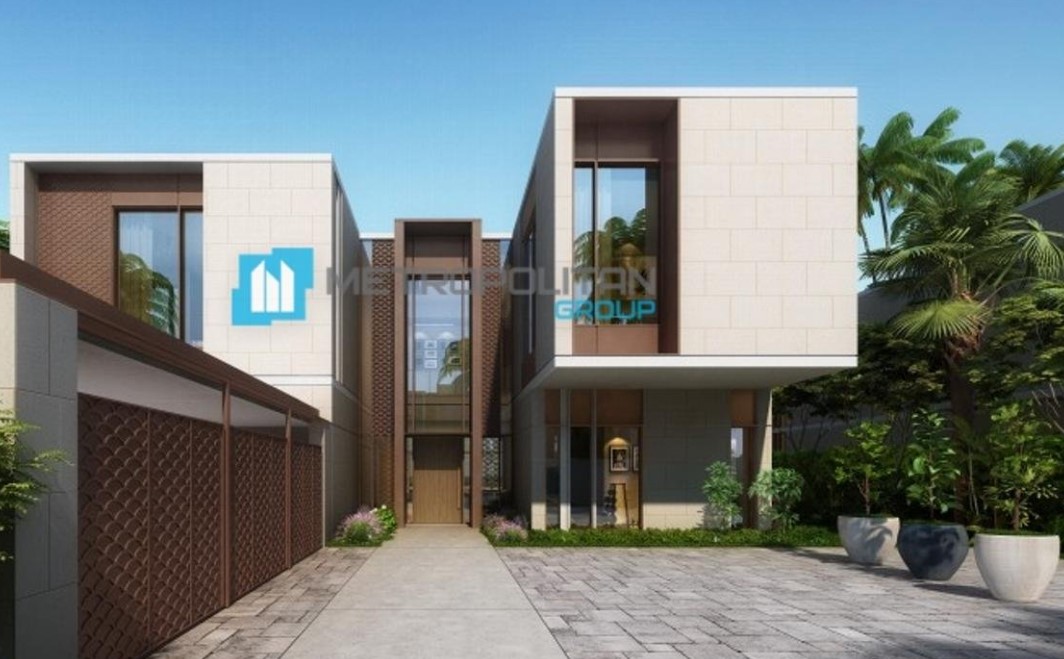 Lastly, at Jumeirah Dubai. Jumeirah Dubai offers affordable villas at a price considered as being of modern and chic design. Detached Villas with the view of the sea and quick connectivity to Downtown Dubai to go shopping at the largest shopping mall at the Dubai Mall. 
For more information click on FazWaz Real Estate UAE.